Childhood Dream
On excitement machine I read this link about a trailer
For some reason I interpreted movie trailer to mean live-in trailer. Duh...
This reminded me of a childhood dream I had of having my own trailer, being a writer and travelling from place to place. The idea of living in one place seemed so dull. (Nor did I want to be married. The best I would concede was marriage to an airline pilot or someone who would be gone all the time.)
I thought that I would find incredible adventures in Kansas City or San Francisco and then when I got bored, I could just move on.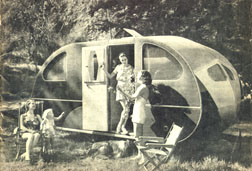 Of course the trailer of my dreams was an Airstream Travel Trailer. Even back then, I knew kitchy quality when I saw it.
A site with pictures.
As soon as I could talk and people asked me what I wanted to be I said 'a hobo.' I had a little story about hobos and we used to go to a restaurant 'Hobo Joes'...
Now I realize: My dreams haven't changed that much. However, I have gotten a bit bogged down as of late.
Hobo Joe's possum recipe
Are you a hobo?