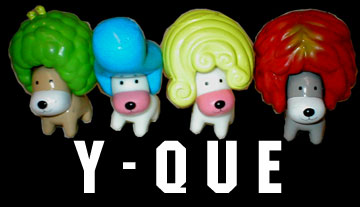 Finally I feel like I can talk safely about Death and Plastic...the trauma is over
Wow. After I sounded kind of jaded about blogging (really...I'm not...I just have this need to categorize things--ask Immanuel Kant...he can explain it).
Here
I was led to the most incredible animated cartoon which I believe is an ad for Kikoman soy sauce.
OK, perhaps it is not the most artistic thing but it is just so tremendously strange
The last idiot blogthought you can freely allow yourself to make:
The most fascinating thing is how lonely this makes me when I am never lonely when away from it...As soon as I step away from the keyboard the feeling of loneliness dissipates. I can't tell if the spatial metaphor is responsible for this: An infinite web of which I am less than the link between the strands...Or if it is too message-in-a-bottle like. Giant ocean. Little me. On island. All alone. Send bottle. No one finds. Die of scurvy.
The act of sending my signals out into the internet is always reaffirming my own transience and insignificance at every moment.The fact that I sit here alone. And yet it somehow deludes me momentarily into thinking that I am making some sort of connection.
It's so much like cheating at quitting smoking...I have this vision of how delicious a cigarette will be...How it will connect me with the eternal now, quell my inner demons and provide eternal nirvana. Then I smoke it. It tastes (a) awful or (b) just OK but does nothing that I imagined. Yet because the imaginary pleasure was so compelling really all I can do is smoke anyway...If that's a letdown then not even trying to smoke right then is an even a bigger letdown.
The prospect of getting cancer is such a buzzkill, let's face it.
Well, it's not true that blogging is the only time I ever feel lonely. I remember the time that I got my finger caught in the hole for one of those wetcloth dispensers. It was an existential moment of agonizing pain. I saw that each man is alone in the universe. I faced my own death. I believed that my finger would never be free and yet my injury was so ridiculous that I could not seek help. Thus, I would die because I didn't read the (really small!) warning not to stick your finger
through
the hole.
Yes, I felt lonely then. I knew there was no one I could turn to. No one who wouldn't make fun of me, that is.