Turn Ons/Turn Offs
.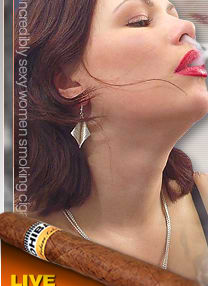 Yes, I know that lots of people have sexual fantasies. I have those too. But there's this one fantasy that really gets me HOT. I call it the 'smoking fantasy.' See, we're in this room. No, we're in a warehouse. It's filled with soft couches, velvet ones. And very tasteful decor...like chandeliers and what-not.
(Note to self: Husband hates it when I 'decorate' the fantasies or dress the participants. "There was this really hot girl! And she was wearing brown thigh high boots (well, that parts OK with him) and she had on a cream colored cashmere sweater, a dark brown mid-length leather coat, and a light brown suede skirt...We are in this room with a red accent wall..." Due to this narrative problem, husband has lost interest in my fantasies. Those women's magazines always tell you to share your fantasies but for some reason his eyes glaze over.)
Anyway, back to the warehouse...The thing is: Everyone in this warehouse is
smoking
. And everywhere you turn there are big glass bowls (really pretty ones) full of
cigarettes
. Not just any cigarettes but the really good kinds...like
Drum
and American Spirit and Gitanes and Third World Marlboros and Dunhill. And matches...books of matches.
We just smoke and smoke and smoke and smoke. We lie on the couches and smoke. Smoke fills our hair, our lungs, every niche and cranny of our bodies. There is no thought of cancer. In fact, tobacco doesn't cause cancer. Or wrinkes. You just get more healthy and beautiful with every puff. You don't have to pay very much for cigarettes. They are the cheapest thing you can buy--costing less than a pack of gum.
Sometimes I leave out the warehouse part. We just get to smoke all the time, everywhere, as much as we want. And there are no reasons
absolutely no reasons
not to smoke. The smell of smoky clothes and hair? All people in the world find this utterly delicious. They talk about how horrible it is to kiss someone who hasn't had a cigarette in the last few hours.
In fact, in this world there are even
public service announcements telling us to smoke more.
.
Well, the fantasy just goes on and on. It gets me so hot!
You thought there was going to be sex in it? Oh. I'm sorry...I thought this was everyone's secret fantasy. Having sex...I mean--you can do that. Anytime you want. No one can stop you. It's as wholesome as apple pie and mom. But smoking...mmmmm...now that's forbidden and downright wrong.